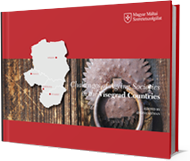 Challenges of Ageing Societies
in the Visegrad Countries
The present book covers a comprehensive picture of the challenges of ageing in the Central European Visegrad Four – Poland, Slovakia, the Czech Republic and Hungary – and at the same time also formulates answers and presents the results of several new researches, action researches including good examples that can be applied in practice. Each of the articles is a separate unit but together they trace an interlocking picture. The first part of the book focuses on the analysis of challenges of demographic trends, population ageing, macro socio-economic, labour market trends, societal, environmental, ICT and care challenges with special emphasis on long-term care. The book highlights the diversity, the similarities and differences of the research findings until now hardly or not at all accessible for the "English-using" scientific world.
CLICK HERE TO BROWSE THE BOOK ONLINE